Crunch. Crunch. Crunch. Red, yellow and orange leaves crackle under my feet like
giant cornflakes. Colors dance and delight me on this early morning fall walk. A concrete Foo Dog sits among leaves and grasses. Usually spotted in pairs, its partner is nowhere to be seen. Two Foo Dogs guard the entrance at the Temple of Enlightenment. One represents confusion and the other fear.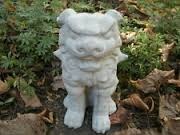 Fierce and unfriendly smiles hint at their ancient warning. "To enter enlightenment you must pass through confusion and fear." Not an appealing proposition. I was hoping for a doorway through bliss. Or that maybe chocolate would be a threshold to Nirvana. But Foo Dogs say it takes facing difficulties. You might wonder, "Where is the Temple of Enlightenment?" We do not need to search for it. It finds us. Openings appear in our everyday lives.
A dear friend says she is hurt by our action
We're demoted or lose our job
Employees complain to our boss about us
Our marriage feels lifeless
A devastating diagnosis is given to a loved one or to us
These are all entrance points to enlightenment. Surprised? Events that rattle our sense of self are opportunities to expand awareness. They lead to questions like: Who am I now? What can I learn from this? This is what I described in the Noxzema Chapter in Unfolding.
Life cracks us open. No one escapes the chance to find value in brokenness. In each of these situations something that's invisible splinters—our self-image. We are not the friend, employee, or wife we thought we were. We're not as healthy, rich, protected, effective, or loved as we once believed.
We're shaken to the core.
My initial response in these moments is to turn away. Then I notice that my pain worsens. When I stay with it, I see the situation for what it is – a challenge. I become curious; Am I being asked to use my voice to declare what I need? Or, do I need to listen to others with more compassion. Or is it a combination?
Walking through these events is courageous. Curiosity is the key. It allows us to stop looking for who is right and who is wrong. That takes a shift from ego to soul as we view what is happening in a new way. Our souls celebrate breaking open. Our egos think it is a tragedy.
Is there painful situation in your life now? Is a relationship problematic? Is your work putting you asleep? Do you feel the hankering of a mid-life change? Is it your weight? The discomfort we feel is in direct proportion to our desire for change.
It would be nice if singing angels waited for us at the Temple of Enlightenment. Instead two ferocious dogs are there. They say, "Come in if you dare."
Do You?