BLOG
[responsivevoice_button voice="UK English Female" buttontext="Listen to Post"]
The question comes from an owl in a nearby tree. It seems to be speaking to me as I pick up my pen and begin my early-morning journaling. The owl's question reminds how hard it's to be one's self. Yet there is really no other choice. Harder still, is to answer this question without using a job title or a role we play. 
This morning these are my answers…
I am she who sits in silence to hear her true voice.
I am she who writes to welcome forgotten parts of herself.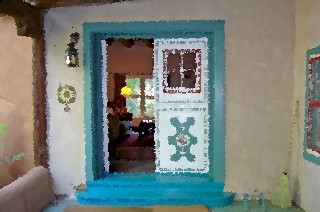 The doorway into Mabel Dodge Luhan House, in Taos NM, is painted in bright Southwest colors.  It invites us to enter. How many others have passed through this entry hoping to claim some wayward part of themselves? Even Mabel, reportedly came to the Southwest to collect the fragmented parts of her life. Mabel Dodge Luhan and Georgia O'Keefe
were friends. They were outspoken and self-reliant women. 
I am studying their lives preparing for the Taos Retreat. Georgia was a woman who would be herself no matter what. She painted in her own style and created a life that fit her rhythms. Hers was not an easy path or pain-free, far from it. Both women were regarded as bossy and demanding.
The women I met, when we had a house in Colorado, demonstrated remarkable self-reliance.  Were they strong first?  Or coming out west did this rugged terrain call forth their strength?  I believe it's a combination. The mountains, open spaces and energy of the indigenous peoples do not abide pretense.  Stripped of a surface persona they reached down into the core of who they truly were.
Being all things to all people can pull us in too many directions.  We become unraveled.  Writing is one of the ways these disparate pieces are woven back together.  Solitude is another way.  This is not easy in our busy lives. The combination, especially in a retreat, works wonders. We can collect loose threads during retreats and weave ourselves back together, often in a new pattern.
To stand by each part of who we are. 
To face the beautiful, brilliant and broken parts
Busy lives leave little opportunity for solitude or writing.
Today I am full of questions in a world that wants only answers. Here in this quiet of the morning all I have are questions. I wonder how you would answer.  Who are you? What if you couldn't use a job title or role you play. How would you answer this question?
Get Your FREE Copy of
Schmooze Your Muse:
Journaling to
Lose Your Mind,
Find Your Soul and
Embody Your Voice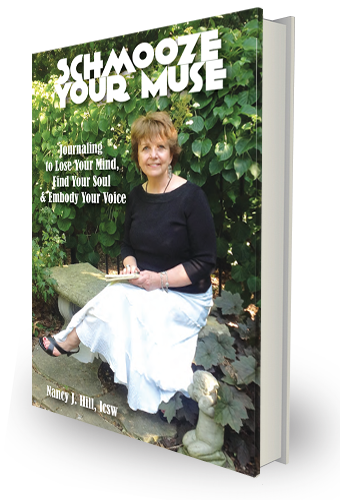 Get immediate access to your free e-book, Schmooze Your Muse: Journaling to Lose Your Mind, Find Your Soul and Embody Your Voice. This ebook is forty pages that show you a process that I created while writing my book Unfolding. Simply enter your name and email address below to get your free copy now.
You'll receive a link within your inbox to download your copy immediately:

**Double-check your email for accuracy to ensure you receive your free mini course.
Privacy Assured:
Your email address is never shared with anyone