BLOG
[responsivevoice_button voice="UK English Female" buttontext="Listen to Post"]
How are you going to be in 2017?
Not what will you do or what will you have.
Most New Year's resolutions are about what we will do.   "I will start doing thirty minutes of exercise three times a week. I will eat less and move more." Money, exercise and travel are the perennial
resolution themes. If we do these things. it will lead to what we want to have and then we'll be _______________ fill in the blank. In this belief system, being is dependent on what we do and have.
What if you started with where you hope to be after you take this action?  Maybe you want to feel energetic or glow with vitality.  Knowing how you want to be, brings meaning to those early morning drives to the fitness center.
The practice in the women's circles is to create an intention and let that inform your actions. How do I want to be this year? This usually boils down to a simple statement or a word like, kind, vital, generous, or courageous. The word we choose becomes an energetic note that we will use throughout the year as a guide.
I am sometimes shocked by the tone of voice I use with Don. In moments of stress or tiredness, rudeness and impatience color my words. My tone is disrespectful of him and the love we share. Over Christmas, I heard myself and knew I wanted to let my words reflect what my heart feels. My intention for 2017 was clear.
This year kindness is the energetic note I will hum, well most of the time. I won't be perfect. I will be stressed, weary and unthinkingly snap at him. I can then realign with kindness.  My intention has already softened how I speak to Don.
This practice includes using intentions in the form of questions at the end of the day. "Was I kind today? Is there a way I can be kinder? Is there a person that challenges me to be kinder?
How we are being is a choice.
I prefer to say intentions like this, "I am the possibility of kindness."  Saying it this way gives me room to hold my intention as a human not as a perfected being. Some moments I will be kind. Some moments I won't be.
Kindness is a choice no matter what circumstances present themselves. 

Attention is the first step in making any shift. I am listening to myself and returning to being kind to Don, others and myself. 
At year's end I want to say, "I used this intention well."
I kept my attention on my intention and worked to let my action reflect kindness.
Get Your FREE Copy of
Schmooze Your Muse:
Journaling to
Lose Your Mind,
Find Your Soul and
Embody Your Voice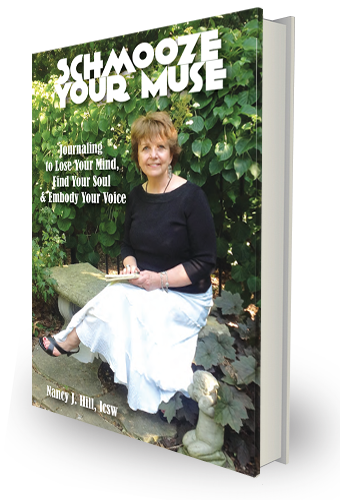 Get immediate access to your free e-book, Schmooze Your Muse: Journaling to Lose Your Mind, Find Your Soul and Embody Your Voice. This ebook is forty pages that show you a process that I created while writing my book Unfolding. Simply enter your name and email address below to get your free copy now.
You'll receive a link within your inbox to download your copy immediately:

**Double-check your email for accuracy to ensure you receive your free mini course.
Privacy Assured:
Your email address is never shared with anyone