I am reading my book Unfolding again. A very special copy. The one I gave to my mother-in-law.  I found her copy after she died. She tucked little notes here and there. There's something precious about seeing what others write inside a book. In her style, notes are on separate little sheets of paper tucked in between the pages. The most poignant note is "Your sweet mother as she was." It's in a section where I'm writing about my mother. I wonder what was going through her mind when she wrote these notes. I wonder how my words touched her, if my words inspired her, if they let her know me in a way that she hadn't before.

Surprisingly, we never talked about her reaction to the book except for a few affirming remarks. She was a kind loving woman. She did not speak easily about her inner life. I don't even remember asking her about the book, if she read it or how it touched her. There are so many ways of loving and being loved. Maybe I'm thinking of her because of this time of year.  She died in August two years ago.

I never read the book Five Love Languages by Gary Chapman. He said that these are ways of loving: Words of Affirmation, Acts of Service, Receiving Gifts, Quality Time, and Physical Touch. Each one is important and expresses love in its own way. I know understanding this has helped people see that love is given in different ways. But I bet there are as many types of love as there are people. I think our job is to look for the ways we are loved. Each of us in our own limping, somewhat awkward and broken ways express love. Sometimes it's not so obvious.
She loved me in these scribbled notes.
What an assignment it is on this earth school to love and be loved. Clearly, one of the hardest tasks we will ever do. I know people who are much easier to love than others. Some days I am easier to love than others. And then of course there is the most challenging part of loving which is loving ourselves. That is a lifelong journey. And some days it's easier for me to love myself.  When I look at my mother-in-law's sweet notes tucked in between pages I feel her love. I hope she felt mine. Maybe now we show love in a different way than written notes.We text, post on Facebook, or call to check in on others. Sometimes it's a mailed card or a bouquet of flowers, other times it is a caring father's prayer.
How my life would be transformed if I noticed all the ways I am loved every day. I am working on noticing them when they happen.
Will you notice acts of love coming your way today?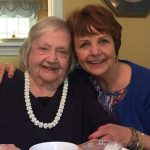 Me with Tee, my mother-in-law.